How does one become a Christian?
This is an important question that most people simply do not pay attention to.
They usually simply accept the words and rituals of any local Pastor or Priest they visit, and believe that by following their given instructions, they will be led into a life of Christianity.
Of course, who better to go to for Spiritual Advice; a Pastor or Priest, not so?
Well, the problem is, most Biblical Teachers today are either false, or wrongly informed on what they are teaching. So it's hard to blame an individual for seeking a reputable Biblical authority for all the answers to a Christian lifestyle.
In this teaching I will attempt to explain as clearly as possible, how to become a Christian, and how to live a Christian lifestyle. My teaching is not so much my own opinion on this Topic, but what the Bible (God's word) clearly points out for us.
Sections in this Biblical Teaching:
1) What is a Christian?
2) Why can we become Christians?
3) How does one become a Christian?
4) Why was Baptism by Water Practiced in the Bible?
5) How to live a Christian lifestyle?
1) What is a Christian?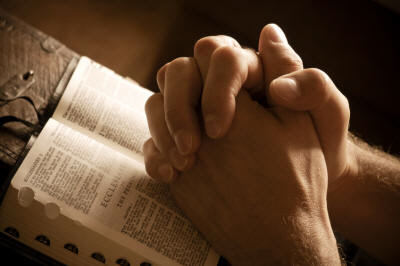 A Christian is a person who is "Born again" of God's spirit/seed, at which time you receive the gift of Holy Spirit.
A normal person is born only of Body and Soul. When you become a Christian, you are now Body, Soul and Spirit.
(Ephesians 2:1) And you hath he quickened, who were dead in trespasses and sins;

(Ephesians 2:12) That at that time ye were without Christ, being aliens from the commonwealth of Israel, and strangers from the covenants of promise, having no hope, and without God in the world:
All of us are initially born by "corruptible seed", and was legally owned by the adversary (Satan).
God originally gave ownership of this world to Man (Adam)
(Genesis 1:28) And God blessed them, and God said unto them, Be fruitful, and multiply, and replenish the earth, and subdue it: and have dominion over the fish of the sea, and over the fowl of the air, and over every living thing that moveth upon the earth.
Adam and Eve sinned in "Genesis 3", handing over authority of the world to Satan.
We can see that Satan later Tempts Jesus in Luke 4, offering him the world if he obeyed Satan.
(Luke 4:6) And the devil said unto him, All this power will I give thee, and the glory of them: for that is delivered unto me; and to whomsoever I will I give it.

(Luke 4:7) If thou therefore wilt worship me, all shall be thine.
When one becomes a Christian, that person is born again of God's "Incorruptible Seed", and is no longer owned by Satan.
2) Why can we become Christians?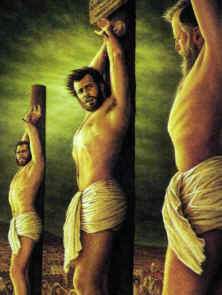 We have the ability at this point in time to become a Christian, because God lovingly sent his only begotten son as a sacrifice to atone for our sins.
(John 3:16) For God so loved the world, that he gave his only begotten Son, that whosoever believeth in him should not perish, but have everlasting life.
(1 Corinthians 15:3) For I delivered unto you first of all that which I also received, how that Christ died for our sins according to the scriptures;
(1 Peter 3:18) For Christ also hath once suffered for sins, the just for the unjust, that he might bring us to God, being put to death in the flesh, but quickened by the Spirit:
(Hebrews 9:28) So Christ was once offered to bear the sins of many; and unto them that look for him shall he appear the second time without sin unto salvation.
(Hebrews 10:12) But this man, after he had offered one sacrifice for sins for ever, sat down on the right hand of God;
Without Jesus Christ, we would not have been able to receive the gift of Holy Spirit (Christ in you).
Jesus Christ was that "Mystery" which God hid since the beginning of the world, that would redeem man from sin.
If Satan had known this Secret, he would have never driven the people to Crucify Jesus.
(Colossians 1:26) Even the mystery which hath been hid from ages and from generations, but now is made manifest to his saints:

(Colossians 1:27) To whom God would make known what is the riches of the glory of this mystery among the Gentiles; which is Christ in you, the hope of glory:
Right now we live in the Grace Administration.
There are 7 Administrations or Time Periods of God's "Time Table".
Before the Grace Administration, the Gift of Holy Spirit was not available. One could not become a Christian and be surely saved from the wrath of the adversary.
(Followers of God long ago only had "Spirit upon" which could be lost if they strayed away from God's Word.)
We should be thankful that we live in this Glorious time of God's Grace.
(John 1:17) For the law was given by Moses, but grace and truth came by Jesus Christ.
(Ephesians 2:4) But God, who is rich in mercy, for his great love wherewith he loved us,

(Ephesians 2:5) Even when we were dead in sins, hath quickened us together with Christ, (by grace ye are saved; )

(Ephesians 2:6) And hath raised us up together, and made us sit together in heavenly places in Christ Jesus:
3) How does one become a Christian?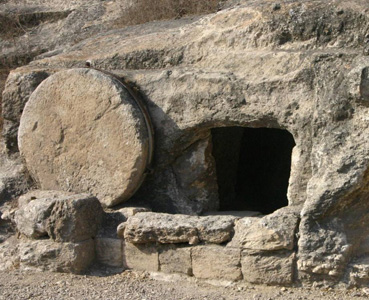 Contrary to popular belief, becoming a Christian has nothing to do with being Submerged in water or any other Ritualistic practice.
Here is what the Bible says about becoming Born again (saved):
(Romans 10:9) That if thou shalt confess with thy mouth the Lord Jesus, and shalt believe in thine heart that God hath raised him from the dead, thou shalt be saved.

(Romans 10:10) For with the heart man believeth unto righteousness; and with the mouth confession is made unto salvation.
That's it! – [Note those 2 IMPORTANT Verses and confess it with your heart]
"confess with thy mouth the Lord Jesus" – You can confess this Vocally with your mouth, or Mentally Confess this in your mind.
It isn't really just about saying the words, but actually "Believing" what you say.
"believe in thine heart that God hath raised him from the dead" – You must believe with all your heart, that God raised Jesus from the dead as payment for our sins.
Believe this without a doubt in your mind, and:
"thou (you) shalt be saved." – You will become a Christian from that point on, receive the gift of Holy Spirit and no longer belong to the Adversary (Ruler of this world – Satan)
It isn't always that easy for everyone to believe this with the innermost of their heart, some people would have grown up in different backgrounds, cultures and religions, so it's hard for some to accept this truth of God, and it will take time, willingness and love to reach to the point of truly believing in what God and Jesus Christ has done for us.
A good start is by reading God's word more often and living a Christian lifestyle.
Eventually everything about God and the Bible slowly begins to make sense, and it is then easy to accept Jesus Christ as your Lord and Savior.
4) Why was Baptism by Water Practiced in the Bible?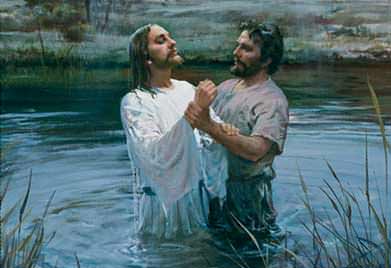 The practice of Baptizing people by water is still widespread in the world today.
This originated very long ago in Pre-Christian eras, but was "publicized" by John the Baptist (a truly great man of God), who Baptized believers of God with water.
The purpose of John the Baptist was to prepare everyone for the coming of the Messiah (Jesus Christ).
(Mark 1:4) John did baptize in the wilderness, and preach the baptism of repentance for the remission of sins.
John cleansed the Israelites from the 400 years of sins, accumulated prior to his coming.
This was all, to cleanse and prepare those believers for what Jesus would soon make available, Baptism by Holy Spirit, which is, becoming a Christian.
(Acts 19:2) He (Paul) said unto them, Have ye received the Holy Ghost since ye believed? And they said unto him, We have not so much as heard whether there be any Holy Ghost.

(Acts 19:3) And he said unto them, Unto what then were ye baptized? And they said, Unto John's baptism.

(Acts 19:4) Then said Paul, John verily baptized with the baptism of repentance, saying unto the people, that they should believe on him which should come after him, that is, on Christ Jesus.

(Acts 19:5) When they heard this, they were baptized in the name of the Lord Jesus.

(Acts 19:6) And when Paul had laid his hands upon them, the Holy Ghost (Spirit) came on them; and they spake with tongues, and prophesied.
"spake with tongues, and prophesied." – 2 of the 9 Gifts of Holy Spirit. They were not able to do this before that day.
As Paul, (the leader of the Christian Church at that time) explained, baptism by water was only for repentance of sins (is does not give you Holy Spirit).
He then added that you should instead believe on Jesus Christ (as described in Romans 10:9-10).
5) How to live a Christian lifestyle?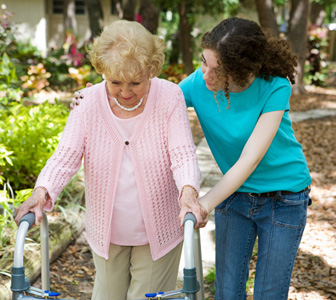 A lot of people today call themselves Christians, but they do not live the type of lifestyle expected of a Born again believer.
Most of these people are probably not true "Born again Christians", but simply carry the title "Christian" because they attend a Church.
We Christians must be positive examples unto others, so that they in turn can admire our righteous walk, realize the Truth of God's word and become a Christian themselves.
Here is a summary of some practices that are expected of us as Christians:
— (Will continue soon) —
[sc:small_separator ]
Thanks for reading! 😀
God Bless You!
-Andrew Emmanuel Davis